Adventure Service and Repair is based in Morley Leeds, our Land Rover service Yorkshire Garage can offer you servicing on the full range of Land Rovers including Range Rover, Discovery, Freelander, Defender and Evoque including new vehicles still under Land Rover warranty.
Typically our prices are half the price of those charged by Land Rover main dealers. 

All our servicing is carried out to the very latest servicing schedules specified by Land Rover using GENUINE Land Rover parts and premium world renowned Millers Oils. If comparing prices, please make sure you are comparing like for like and ask to see the Genuine parts that are fitted to your vehicle. We also have constant on-line access to Land Rovers global technical reference, this provides us with the very latest service bulletins and schedules (i.e. we have all the same up to date information as Land Rover Main Dealers) so you can be sure that the latest procedures are followed when servicing your vehicle. We can also advise you of any relevant safety recall information. To add to this, our software is constantly updated and includes the latest software updates for all models, so if required your vehicle will be updated when serviced. This ensures that your vehicle is thoroughly and correctly serviced and maintained. We don't just blindly follow the schedules either. From our own experience, we add our own preventative maintenance measures to the service schedules for each particular model, which helps prevent problems occurring later on in your Land Rover's life.
A courtesy car is available if required by prior arrangement.
In our well-equipped workshops we are able to offer a full and complete range of electrical (see diagnostics) and mechanical services.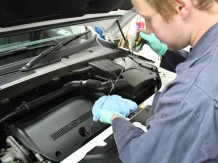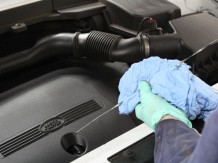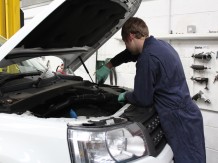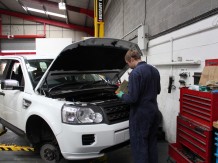 Servicing New Vehicles
Adventure Service and Repair can offer a Land Rover service in Leeds on all new Land Rovers and Range Rover's which are still within the manufacturer's warranty period. THIS WILL NOT AFFECT YOUR WARRANTY. 

The Automotive Block Exemption Regulation (BER) 1400/2002/EC, which came into force on 1st October 2002, is the legislative framework for motor vehicle distribution and servicing agreements. The new BER aims to create more competition in the sales and servicing markets.
The European Commission intends to preserve the motorists' right to have their vehicles serviced, maintained and repaired at a workshop of their choice and at prices controlled by competition. 

The BER regulations effectively ended the Motor Manufacturer's monopoly on servicing new cars still under warranty. Any competent VAT registered garage is able to service new vehicles still under manufacturers warranty, provided that the service is carried out to the manufacturers specified service schedule using genuine or equivalent quality parts.
As a result of the BER regulations the office of fair trading conducted a study which was published in 2003, the study found that there was no significant difference between the standards of workmanship in an independent garage or a franchised main dealer. It also found that there was confusion among consumers over the options available to them, with more than two thirds of motorists assuming their warranty would be invalidated if they used an independent garage, even when this is clearly not the case.
Our Land Rover service Leeds garage is able to service Land Rover and Range Rover vehicles still under Land Rover warranty. It is ILLEGAL for Land Rover dealers to state otherwise. If you have been told that you will invalidate your warranty if we service your vehicle, then please let us know, and we will pass this information on to the Office of Fair Trading.
For more detailed information, please visit the International Federation of Automotive Aftermarket Distributors. Or for the complete regulations visit the European Commission website
Please do not hesitate to contact our service department to discuss your requirements or request a servicing quote